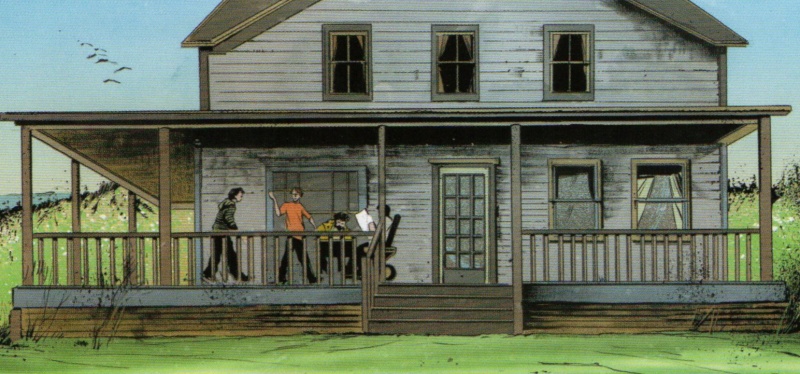 ---
Lyca, still invisible, landed silently on the porch roof and began hunting for an open window. It didn't take her long; the Big House had been left open to the breeze in order to take the edge off of the summer's heat. Quickly, Lyca slashed through the window screen and slipped inside the house. Naturally, she had no trouble getting into the camp office; she'd broken into some of the most secure facilities in the world, into the vault of Hades himself, and compared to that, sneaking in and picking a few locks really didn't rate. Inside, she picked up the receiver and punched in a number she'd memorized years ago. The phone rang once, twice, before someone picked up. "H'yello," said a male voice on the other end of the line.
"Hunter," Lyca whispered. "It's me."
"Holy shit, Lyca? No way, man! Damn, it's good to hear from you. How was jail, dude?"
Lyca suppressed a shiver. "Sucked. Sucked real bad, Hunt." Boy, was that ever an understatement. "What about you? Enjoying living back in the States?"
"Yeah, man!" Hunter said. "Me and Bunny, we're doing—" He paused. "Oh, shit. Oh, shit! You haven't heard about Bunny, have you, man?"
"No. Look, Hunt, if it's a new boyfriend, I really want to remind you what happened
last
time you dated a male stripper—"
"No, no way, man. Rico, he was, like,
so
a mistake, man." Hunter's voice seemed to overflow with pride. "No, Bunny's my daughter, man. You hear that? I'm a father!"
For a minute, Lyca felt an odd disconnection, as though she were dreaming. She had to be dreaming. Or it could be the apocalypse, and the flaming hail would begin falling any minute now. After a moment, when the world had neither ended nor had Lyca woken up, she snapped back to reality. "What?!?" she shouted into the receiver, forgetting entirely the need for stealth. "What?!? The?!? Hell?!? How did that even
happen?
I mean, no offense, but when I got caught, you were
gay
. Like, really, extremely, utterly Kinsey Six gay! How did you even…?
Who
did you even…?"
Hunter laughed. "Aw, no way, man! It was with Athena. A meeting of minds, not a meeting of, y'know, all that other shit. Like, platonic. We met a few weeks after you went to the clink and shit just happened, you know. And now Bunny's here!"
"What?!?" Lyca shouted again. "
Athena?
You had a kid with
Athena
while I was in jail? She's the goddess of wisdom, Hunt! Wisdom! We are not wise people! We're the opposite of wise people! How the hell did that happen?"
"Wisdom, yeah. And war, and crafts. You remember that I cook, right?" Lyca nodded; she had a real problem with phones and making gestures. Hunter had a point, she supposed. He was easily the best chef she'd ever met—and she knew some of the finest in the world from her years in Paris. "So, yeah. There's that, plus the stuff with all the guns. We met at a cooking expo in LA."
"Okay…" Lyca said, breathing deeply to calm herself down. "Okay, that makes a certain amount of sense. Not much, but some. Shit, now I feel bad for calling. You've got a kid to take care of now, and I—"
"Hey," Hunter interrupted. "You're my best friend, man. You know that. If you need me, I'm there. I've got this sitter I call for Bunny. She kinda freaks me out, but… Well, Bunny's safe. She's really,
really
safe."
Lyca sighed. For the first time since leaving the Underworld, she felt something close to normal. Hunter had been with her since the beginning, and she knew he'd be there until the bitter end. Having that belief reinforced helped. "Okay," she said. "Just remembered you agreed to this. It's a doozy." Quickly, she outlined the terms of her parole, her tasks for Hades, and the assignment to retrieve the stolen drinking horn.
"Shit," Hunter said when she finished. "You were right, man, that's bad. Especially since… Like, think about it. Whoever this is, they robbed Hades, an so far, they've gotten away with it. We tried that, we didn't get away with it. So…"
"So," Lyca finished, "whoever we're up against, they're better than us." She hadn't thought of that, but it made sense. "Shit."
"I wish we still had Val."
Lyca snarled. "He sold us out, Hunt. I just spent months in jail because of that cocksucker. We're better off without him."
"Yeah, maybe. But with his powers, he was the strongest of us by a whole damn lot. If we're going to do this… We're gonna need mojo, man. Enough to replace Val and then some." A pause. "Hey, you're at the stupid holy sleepaway camp, right?"
"Yeah, I… Oh. Oh, no."
"Look, man, you've got all these damn demigods everywhere, just get a few of them and—"
"No! No damn way! I'm not taking any of the damn kiddie campers on a job with us! I—"
"Lyca," Hunter said, "I need to stay safe for Bunny. I lost my parents. With her mom on Olympus… I need to be there for her, okay? I can't go out on a job like this unprotected and…" He trailed off.
"Shit," Lyca said. "Shit, shit, shit." She wasn't angry, not really. Hunter was right. "Okay, I'll find some people. I'll track him down, maybe a few more. After that… No Oracle, this is supposed to be hushed up, but I'll get a prophecy from Diddy J. Then we can go get actual answers from Claudia, 'cause Diddy J's prophecies are shit. You know where the Camp is, right? Montauk? Be there for pick-up in two hours. Bring a van, and be ready to drive. I doubt the powers that be are gonna be tickled I'm stealing a bunch of campers."
"Got it. See you in a few, Lyca."
"Right back at you, Hunt. I can't believe she let you name the damn kid Bunny. Bye." Lyca hung up the receiver and slipped out of the office. She was going to have a hell of a few hours setting all of this up.