Name
: Esmee Dina Hope
Nickname
: Esmeey, Es, Meemee
Age
: 17, making her birthday 1/3/1998
Gender
: Female
Sexuality
: Straight
Personality
: Esmee has a very balanced personality, being funny and friendly with a touch of outgoing, evened out by her natural introversion and need of quiet now and then. Despite this, she's not usually what you'd call calm, being pretty unfocused and energetic. She can occasionally get over emotional and yea, gets angered pretty easily. That never ends well.
Looks
: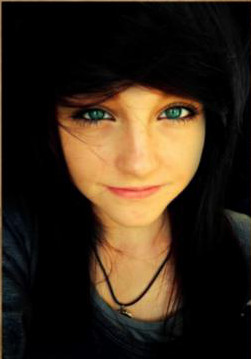 Hair reaches to around mid-back, choppy from years of fighting with sharp objects and usually pretty messy from years practicing the art of not caring. She's about average height, and in good shape.
God parent
: Poseidon
Power(s)
:
Hydrokinesis
: The ability to generate and control water. The act of actually summoning water takes a good deal of focus and energy.
Earthquake Manipulation
: The ability to generate and control earthquakes. Limited.
Healing
: Esmee can heal the physical wounds of others, only when in contact with water. Not on the level of Biokinesis. And of course, being in contact with water gives her a little boost, like it does all Poseidon kids.
Backstory
: To make a long story short, she traveled from Minnesota across the Great Lakes to Camp Half Blood at age 10. This involved living on an island, eidolons, a small band of demigods, death, and Romans. Esmee point-blank refuses to talk about it. Until she turned 14, she was much shier and didn't make many friends, but forced herself to try and be more out there as she began to fully understand just how short her life could easily be. She has stayed year-round at Camp Half-Blood for six years.
Strengths
: She's a master with a sword from years of training and also pretty adept with her Hydrokinesis, making her excellent in a fight. Her healing is coming along nicely as well. She's athletic from a lifetime of training and running from nasty things coming to kill her.
Weaknesses
: Her temper is short as they come and she rarely stops to think things through. She's also very illiterate. Her earthquake ability is still tricky for her, easily slipping out of her control. She also is extremely touchy around the subject of Romans. Tends to overexhaust her powers and give little regard to energy loss until she's face-down, passed out. She's also extremely hesitant to trust in some areas, but others might never even realize this until they ask the wrong question.
Weapon
: She has a sword named Anatrochasmos [Slipstream] (I know, quite a mouthful), which was a gift from her father. It's a fairly standard Celestial bronze one, though a faint mist can be seen and felt around the blade. She is able to make it appear and disappear at will.
Also, sharks.
Other
: Her favorite food is pasta.
More forms will be coming eventually!