Name:
Alvie Church
Nickname?:
 Alvs, Vie, Vievie by Esmee
Age:
14, birthday November 7th, 2000
Gender:
Female
Sexuality:
Straight
Personality:
Depends on her mood, but always quiet with an underlying intensity. She doesn't have feelings so much as logical conclusions as to what the expected reaction is for every situation. When she's having a more extraverted day, she seems really chill and even fun to be with, but intimidatingly smart and immediately notices discrepancies and fallacies. But when she's in full-on introvert mood, she's more prone to slip up and reveal her seemingly emotionless interior and tends to have a short tolerance for people.
Looks: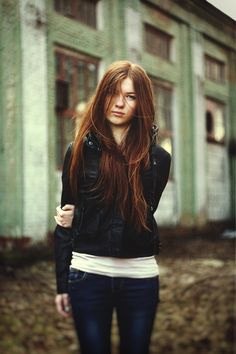 God parent:
Athena
Power(s)?:
Enhanced Intelligence:
Alvie is gifted with a strong memory, enhanced calculation skills, natural reasoning ability, and a powerful learning capability. She is able to grasp concepts and learn new skills in a fraction of the time, absorbing knowledge extremely quickly.
The Judge:
Alvie calls upon the power of Athena, the goddess of Law and Justice and embodies a fraction of the power of that incarnation, which she has dubbed 'The Judge'. When in effect, Alvie has the ability to detect lies and use telekinetic energy as minor shields as well as creating mind blasts, which target a person's brain and give them an intense headache, easily enough to prevent further fighting or resistance depending on the severity. When she is The Judge, her irises glow soft silver.
Backstory:
Alvie was born and raised by a clear-sighted mortal father in Massachusetts, who was very wealthy and yet had a love of knowledge and had a degree in law. He took it upon himself to teach her vigorously, in every aspect, and she flourished under his instruction. By the age of twelve, she was fluent in Greek, Latin, Spanish, and French, with a good start on Japanese, as well as having a huge storehouse of information at her disposal in addition to a thorough knowledge of Greek legends and martial history. But along with that knowledge came monster attacks and increasing danger, so on her twelfth birthday she was sent to Camp Half-Blood, where she has lived ever since.
Strengths:
Disciplined and intelligent. A powerful combination, to say the least. Her enhanced learning alone makes her a powerful force, able to pick up skills and even languages quickly. She's also incredibly logically-minded and level-headed, even in trying situations.
Weaknesses:
Her magical ability (The Judge) is definitely her weak point. Not only is it exceedingly difficult to control, but she runs the risk of depleting her energy extremely quickly. If she either loses the focus necessary to contain the Judge or loses consciousness from the strain, the Judge will take over for her, controlling her body's actions. The Judge has no sense of mercy or personal loyalty. In addition, it has no regard to Alvie's limits and can easily deplete her to the point of death. Alvie also can come off to others as very odd, cold, and even freaky to others who don't understand her, seeing as all her reactions in social situations are calculated responses to mimic a normal conversation and when this doesn't work, the result is quite off-putting. She's also not the best fighter, though what she lacks in talent and technique she makes up for in strategy and lightning reflexes. Her hearing is also very sensitive, leaving her unable to sleep if there's even a little disturbance and being vulnerable to noise in general.
Weapon(s)
:
Katadíki̱ [Condemnation]
, her wrist-mounted, magic-enhanced Celestial bronze crossbow. Designed by her, it isn't a powerhouse of a weapon, but those darts can pack a punch at a closer range and she can use specialized ones if the situation calls for it, i.e. poison.
Dikaiosýni̱ [Justice]
, a standard Celestial bronze sword.
Other?:
She would consider Esmee her close friend. She has been at camp for nearly 3 years now.